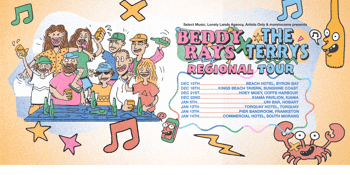 Artists Only, More To Come, Select Music & Lonely Lands Agency presents…
Beddy Rays x The Terrys Regional Tour
Pier Bandroom (Frankston, VIC)
Saturday, 13 January 2024 8:00 pm
Beddy Rays
and The Terrys are stoked to announce they're joining forces for an epic summer time, carton-sized regional tour throughout December and January. Summer is calling so pack your finest pair of budgie smugglers and get ready to rip in legends. See you in a few schooners time!
These days it's almost impossible not to recognise a Beddy Rays track, as their music has become a distinctive and carefully curated recipe involving all the right ingredients: heartfelt lyrics, huge hooks, mosh-worthy riffs and a lingering sense of comradery and good vibes that underpins everything they create. With humble personalities and a knack for knowing how to have a bloody good time, everyone wants to be friends with Beddy Rays.
Beddy Rays - "We're absolutely wrapped to be touring with the Tezzas! We remember seeing them play at a backyard party in Brissy back in 2020 and instantly fell in love with their sound and energy! To top it off they are bloody epic blokes to have a beer with. Bring on the Beddys x Tezzas tour!"
Infectious, fun and free-spirited is the classic Tezzas way. It's not the streams or radio plays – it's fulfilling their own creative urges and building a community on the foundation of music and mates in the process. It's about not trying to appease anyone or faking who they are. It's about reflecting on life, embracing what they're going through and putting that to paper. It's spinning everything into a positive learning curve and always looking for the ray of sunshine. It's letting their true colours show and inspiring the Terrydactyls to do so too.
The Terrys - "I'll never forget our second ever Brisbane show - we were already huge fans of Beddy Rays and they offered to support us despite being way bigger than we were at the time which was crazy! I remember Jacko getting up on stage and singing 'Our Paradise' word for word and since that show we've been inseparable as mates, it seemed like a no brainer to get both bands together, its bound to be a sick show!!"